On friday, NIFTY had a run up till the very end and closed the week at 6274 levels, a weekly gain of 1.72%.
Overall the bearishness that the system was showing turned into bullishness friday morning and we had to close the put position that was opened the previous day even before it hit the stop loss. It proved to be beneficial to limit the losses though we could not use the system input to take a call trade.
Over all on the weekly charts, there is still negative divergence seen and throughout this month, there had been a series of news based triggers and random openings in NIFTY largely due to that. We have entered the expiry week of trading and have three more sessions including today.
NIFTY is hovering around 6300 levels and system parameters are oscillating between put and call as far as IV and OI trend is concerned, more so indicating grinding of premium in both puts and calls at 6300 levels. Options buys become tough in such scenarios where volatility, time as well as price moves will shrink the premium.
We have to be in wait and watch mode to check if any big move is being indicated by the system going forward for this series.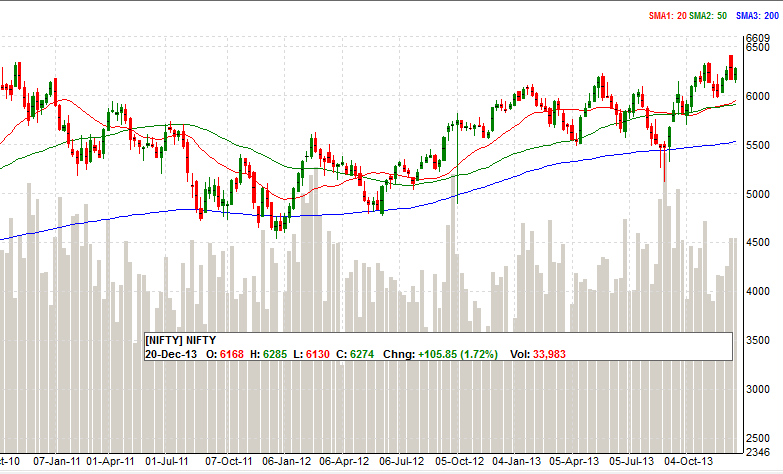 Closed Position details
Date Open
Date Closed
Scrip
Option Type
Strike
Expiry
Num Lots * Lot size
Entry Price
Exit Price
Total Investment
Profit/Loss
Comment
06-Dec-2013, 9:23 am
06-Dec-2013, 3:16 pm
NIFTY
CE
6500.00
26DEC2013
2 * 50(100)
48.40
52.2
4840
380
Nifty likely to scale new highs by afternoon. Closing comment: Though NIFTY went up till the last minute the magnitude was less. Position closed at 52.2
11-Dec-2013,10:51 am
12-Dec-2013,9:37 am
NIFTY
PE
6300.00
26DEC2013
1 * 50(50)
70.25
85.4
3512.5
757.5
Nifty likely to test 6265 levels and below. Closing comment: Nifty reached expected levels and target hit. Though high price of option at open was 109.70, it was not tradable. Position closed at target of 85.4
19-Dec-2013,10:09 am
20-Dec-2013,10:09 am
NIFTY
PE
6200.00
26DEC2013
1 * 50(50)
68.20
44.60
3410
-1180
Nifty likely to move towards 6135 and eventually to 6030 levels. Closing comment: Option premiums have started eroding due to range moves and system parameters IV and OI trend changed in the morning. Position closed
Overall Profit/Loss
Rs.-42.5
System data as on 20th Dec market close
======== Underlying Index: NIFTY 6274.25  As on Dec 20 2013 15:30:37 IST =========
| | | | | | | | | | | | |
| --- | --- | --- | --- | --- | --- | --- | --- | --- | --- | --- | --- |
| Set-1 | NIFTY | | | | | | | | Overall Buy | | |
| ## | SPOT | 6274 | | Puts | Calls | IV Skew | OI Skew | IV Skew | OI Skew | Overall | IV Skew% |
| ## | | 6274 | | 5800 | 6700 | PUT | CALL | 34.86 | -920,400 | | 106.00 |
| ## | | 6274 | | 5900 | 6600 | PUT | CALL | 22.38 | -276,000 | | 85.67 |
| ## | | 6274 | | 6000 | 6500 | PUT | PUT | 20.11 | 627,900 | PUT | 93.39 |
| ## | | 6274 | | 6100 | 6400 | PUT | CALL | 16.09 | -634,150 | | 86.51 |
| ## | ## | | | 6200 | 6300 | PUT | CALL | 4.37 | -628,050 | | 16.81 |
| Set-2 | NIFTY | | | | | | | | Overall Buy | | |
| ## | SPOT | 6274 | | Puts | Calls | IV Skew | OI Skew | IV Skew | OI Skew | Overall | IV Skew% |
| ## | | 6274 | | 5800 | 6600 | PUT | PUT | 30.71 | 154,650 | PUT | 110.18 |
| ## | | 6274 | | 5900 | 6500 | PUT | PUT | 19.06 | 1,467,250 | PUT | 85.70 |
| ## | | 6274 | | 6000 | 6400 | PUT | PUT | 18.53 | 820,650 | PUT | 94.24 |
| ## | | 6274 | | 6100 | 6300 | PUT | CALL | 5.88 | -2,447,050 | | 20.48 |
| ## | ## | | | 6200 | 6200 | PUT | CALL | 3.94 | -6,299,400 | | 13.99 |
| Set-3 | NIFTY | | | | | | | | Overall Buy | | |
| ## | SPOT | 6274 | | Puts | Calls | IV Skew | OI Skew | IV Skew | OI Skew | Overall | IV Skew% |
| ## | | 6274 | | 5900 | 6700 | PUT | CALL | 26.53 | -1,351,050 | | 87.04 |
| ## | | 6274 | | 6000 | 6600 | PUT | CALL | 23.43 | -1,115,350 | | 93.16 |
| ## | | 6274 | | 6100 | 6500 | PUT | CALL | 17.67 | -826,900 | | 87.21 |
| ## | | 6274 | | 6200 | 6400 | PUT | PUT | 14.58 | 1,184,850 | PUT | 83.69 |
| ## | ## | | | 6300 | 6300 | PUT | PUT | 4.80 | 5,043,300 | PUT | 19.88 |
| Set-4 | NIFTY | | | | | | | | Overall Buy | | |
| ## | SPOT | 6274 | | Puts | Calls | IV Skew | OI Skew | IV Skew | OI Skew | Overall | IV Skew% |
| ## | | 6274 | | 5900 | 6800 | PUT | CALL | 30.05 | -1,996,450 | | 88.90 |
| ## | | 6274 | | 6000 | 6700 | PUT | CALL | 27.58 | -2,190,400 | | 94.57 |
| ## | | 6274 | | 6100 | 6600 | PUT | CALL | 20.99 | -2,570,150 | | 89.57 |
| ## | | 6274 | | 6200 | 6500 | PUT | PUT | 16.16 | 992,100 | PUT | 85.62 |
| ## | ## | | | 6300 | 6400 | PUT | PUT | 15.01 | 6,856,200 | PUT | 90.61 |
—
www.tripleint.com