Weekly update – Week ended 03 Jan 2014

NIFTY closed the week at 6211 levels, down 102.65 points from the previous week close, a 1.63% down move.  On Jan 2nd, markets corrected significantly and we have written, after closing the new year day around 6302 levels, NIFTY after opening moved immediately past 6350 levels and is now consolidating around the same. Weekly charts is indicating negative divergence in NIFTY and it is likely for markets to correct any time. System parameters have not yet indicated the start of the down move and OI trend has mildly supported the bullish move till now. NIFTY futures is trading at a 45 points premium and system parameters support the downside move taking spot price into consideration. We are waiting for a range breakout either side before initiating any new position as during consolidation option premium will get eroded soon.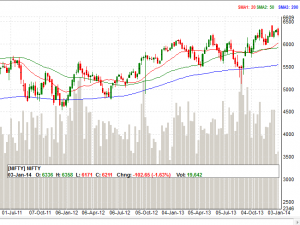 Markets have started consolidating around 6200 levels after that and system parameters have started indicating a rangebound move, though we hold the view that there will be significant correction going forward to test the levels of 6030 that we have been looking for from the last series.
System IV parameters considering the futures price is favouring calls, but taking the spot price into consideration, has started supporting puts mildly. Overall, we might have to wait for some more time for a trade to emerge.
======== Underlying Index: NIFTY 6199.15  As on Jan 06 2014 10:53:05 IST =========
| | | | | | | | | | | | |
| --- | --- | --- | --- | --- | --- | --- | --- | --- | --- | --- | --- |
| Set-1 | NIFTY | | | | | | | | Overall Buy | | |
| ## | SPOT | 6199 | | Puts | Calls | IV Skew | OI Skew | IV Skew | OI Skew | Overall | IV Skew% |
| ## | | 6199 | | 5700 | 6600 | CALL | PUT | -22.53 | 27,100 | | -91.66 |
| ## | | 6199 | | 5800 | 6500 | CALL | PUT | -21.06 | 3,016,500 | | -88.95 |
| ## | | 6199 | | 5900 | 6400 | CALL | PUT | -8.22 | 971,000 | | -27.07 |
| ## | | 6199 | | 6000 | 6300 | CALL | CALL | -4.90 | -1,351,200 | CALL | -15.73 |
| ## | ## | | | 6100 | 6200 | CALL | CALL | -3.97 | -5,278,450 | CALL | -12.67 |
| Set-2 | NIFTY | | | | | | | | Overall Buy | | |
| ## | SPOT | 6199 | | Puts | Calls | IV Skew | OI Skew | IV Skew | OI Skew | Overall | IV Skew% |
| ## | | 6199 | | 5700 | 6500 | CALL | PUT | -21.78 | 2,054,900 | | -89.94 |
| ## | | 6199 | | 5800 | 6400 | CALL | PUT | -20.89 | 1,315,000 | | -88.60 |
| ## | | 6199 | | 5900 | 6300 | CALL | CALL | -8.03 | -125,600 | CALL | -26.49 |
| ## | | 6199 | | 6000 | 6200 | CALL | CALL | -5.11 | -5,441,500 | CALL | -16.24 |
| ## | ## | | | 6100 | 6100 | CALL | CALL | -4.54 | -5,691,800 | CALL | -14.35 |
| Set-3 | NIFTY | | | | | | | | Overall Buy | | |
| ## | SPOT | 6199 | | Puts | Calls | IV Skew | OI Skew | IV Skew | OI Skew | Overall | IV Skew% |
| ## | | 6199 | | 5800 | 6600 | CALL | PUT | -21.81 | 988,700 | | -90.78 |
| ## | | 6199 | | 5900 | 6500 | CALL | PUT | -8.39 | 2,672,500 | | -27.48 |
| ## | | 6199 | | 6000 | 6400 | CALL | CALL | -5.09 | -254,600 | CALL | -16.31 |
| ## | | 6199 | | 6100 | 6300 | CALL | CALL | -3.76 | -1,188,150 | CALL | -12.13 |
| ## | ## | | | 6200 | 6200 | CALL | CALL | -3.40 | -4,865,100 | CALL | -10.95 |
| Set-4 | NIFTY | | | | | | | | Overall Buy | | |
| ## | SPOT | 6199 | | Puts | Calls | IV Skew | OI Skew | IV Skew | OI Skew | Overall | IV Skew% |
| ## | | 6199 | | 5800 | 6700 | CALL | PUT | -23.90 | 662,350 | | -96.19 |
| ## | | 6199 | | 5900 | 6600 | CALL | PUT | -9.14 | 644,700 | | -29.38 |
| ## | | 6199 | | 6000 | 6500 | CALL | PUT | -5.26 | 1,446,900 | | -16.77 |
| ## | | 6199 | | 6100 | 6400 | CALL | CALL | -3.95 | -91,550 | CALL | -12.72 |
| ## | ## | | | 6200 | 6300 | CALL | CALL | -3.19 | -774,800 | CALL | -10.38 |
—
www.tripleint.com